---
The Delft University of Technology (TU Delft) in the Netherlands, in partnership with KLM Royal Dutch Airlines, is working on an innovative airplane design known as the "Flying-V," which — its creators claim —  uses 20 percent less fuel thanks to its unique, two-pronged configuration.
Flaring diagonally backwards from its nose to create the V-shape, the airplane has the same wingspan as existing planes and has a carrying capacity of 314 passengers. It can also hold the same volume of cargo as its competitors. The passengers, cargo hold and fuel tanks will be located in both wings. The Flying-V's engines, a pair of turbofans, will be mounted at the rear.
Its size is comparable to many popular commercial passenger planes, such as the Airbus A350 and the Boeing 787. This means that it could use existing gates, hangars and runways and won't need costly special infrastructure to be built to accommodate its unique design.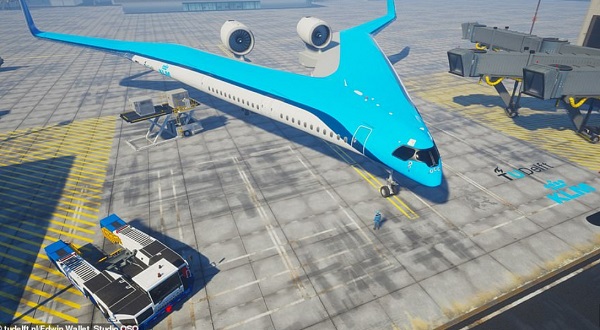 TU Delft believe that the Flying-V could be more aerodynamic than any other plane and yet use up to 20 percent less fuel. According to its designers, everything about the internal design of the Flying-V, from its seats to the bathrooms, is made to be as lightweight as possible to maximize the fuel efficiency gain its shape provides. Peter Vink, a professor of applied ergonomics and design at TU Delft, even says that the Flying-V offers them exciting opportunities with designing the interior, with the goal of making flying more comfortable. "For instance, as part of the Flying-V research, we're looking into new options to having a rest or taking meals on a plane," Vink said.
Pieter Elbers, president and CEO of KLM, believes that the Flying-V can be heralded as a potential leader in the field of "sustainable aviation initiatives."
The future of flight
Dr. Henri Werij, dean of TU Delft's faculty of aerospace engineering, concurs with Elbers' statement, adding that "Radically new and highly energy-efficient aircraft designs such as the Flying-V are important in this respect, as are new forms of propulsion. Our ultimate aim is emission-free flight."
Currently, the Flying-V is designed to fly on kerosene. However, the designers believe it can easily be adapted to make use of future innovations in jet propulsion technology, such as electrically-boosted turbofans. Chief Engineer Malcom Brown even states that the final concept for the Flying-V's propulsion isn't final yet, and that they are still exploring other possible technologies that could be added to the plane. "If these technologies mature, we can integrate them in the design," Brown said. (Related: Battery-powered commercial jetliners could eliminate jet fuel entirely, making air travel vastly less expensive.)
Project leader Roelof Vos said that the design still needs rigorous testing. He states that while the Flying-V has undergone several trials already, such as high speed and low speed wind tunnel tests to demonstrate the plane's efficiency, the plane will go through hundreds or even thousands of tests in the coming years before it's ready for its first commercial fight— including a test to examine whether it can deliver on its promise of comfort for its passengers.
The idea for a fuel-efficient aircraft with passengers, cargo and other infrastructure to be housed in the wings started with Justus Benad, who conceptualized the design while he was a student at the Technical University of Berlin. His concept was further developed by TU Delft, which then sought the cooperation and financial backing of KLM. A complete, passenger-ready Flying-V isn't expected to enter service until sometime between 2040 and 2050.
Sources include: